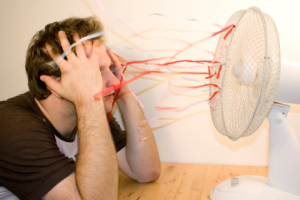 The air conditioning system in your home provides nice, cool air so that you and your family can be comfortable and enjoy shelter from the outside heat. Most people enjoy the great benefits of their air conditioning system and don't give it a second thought, until it's not working properly. Below we will discuss some of the more common problems that individuals experience.
Air Conditioning Problems
1. Maintenance: the most common repair issues are caused from poor maintenance. It is imperative that you change your air filter, and schedule yearly maintenance to be done by a professional.
2. Refrigerant: refrigerant is the product that keeps the air flowing through your house cold. If the refrigerant is leaking, call a repair professional right away. This will cause your air conditioning system to run, but your house will not get cold.
3. Outside Unit: often times the outside unit stops working properly and this will cause your air conditioning system to malfunction. Make sure to keep the outside unit free of any type of debris, such as tall grass, or leaves.
Finally, make sure to schedule yearly maintenance that is performed by an air conditioning professional. Some people choose to put off maintenance due to financial matters, or because they think it's pointless, but putting off maintenance will cost you more in the long run, and is necessary.
For more information on having your air conditioning system repaired, or to schedule yearly maintenance, please contact us. We would be delighted to help keep your air conditioning unit in proper working order.